Bloodman*
* published as Eye of the Storm in Canada
"...Pobi boldly announces his arrival as a cunning novelist..." — Publishers Weekly
"...a Sixth-Sense-like take on Thomas Harris in his prime..." — Sarah Weinman for The National Post
"...the pacing is relentless...a remarkable debut..." — Booklist - Starred Review
"...a fantastic new voice in the thriller genre..." — New York Journal of Books
"A very suspenseful novel." — O - The Oprah Magazine
FBI contractor Jake Cole deciphers the language of murderers by reconstructing three-dimensional crime scene models in his head, a talent that has left his nerves frayed and his psyche fragile. Jake returns to Montauk for the first time in a quarter of a century when his father, a renowned painter, lights himself ablaze and crashes through a plate-glass window. Once home, Jake is pulled into a gruesome local homicide investigation that echoes his mother's murder three decades earlier.
As he sifts through the detritus of his father's madness, Jake discovers thousands of seemingly meaningless paintings stacked in the studio – a bizarre trail of dust-covered breadcrumbs the painter left as he tumbled down the rabbit hole of dementia — breadcrumbs that Jake believes lead to the killer.
With the help of Sheriff Dan Hauser – a man scrambling to prepare the seaside community for the arrival of a catastrophic hurricane – Jake Cole sets out to find the seemingly unstoppable force of malevolence known as the Bloodman.
A unique and disquieting thriller that redefines the genre, Bloodman will leave you reeling long after its operatic finale.
* published as Eye of the Storm in Canada
American Woman*
* published as Harvest in Canada and River of the Dead in the United Kingdom
"So gripping the reader feels metaphorical hands around his throat...If ever a suspense thriller deserves five stars, American Woman does." — New York Journal of Books
"The plotting here is airtight, but, above all, the novel delivers a frightening, Nietzschean horror show composed of equal parts hubris and unintended consequences. Fair warning: expect to sleep with the lights on after you turn the final page." — Booklist
"Cold-blooded, sadistic serial killings plague New York City's Upper East Side in this gripping standalone from Pobi … [readers] will be spellbound." — Publishers Weekly
A stifling heat wave rolls into New York City, amplifying the already critical level of tension in the fragile concrete ecosystem. The air tastes of electricity and the negative charge of bad things to come - but everyone hopes it's just the heat. Then, on the morning homicide detective Alexandra Hemingway finds out she is pregnant, a twisted serial killer makes his debut.
And the heat goes up.
Not for the feint of heart, Harvest turns the detective novel inside-out - order it now.
* published as River of the Dead in the United Kingdom and Harvest in Canada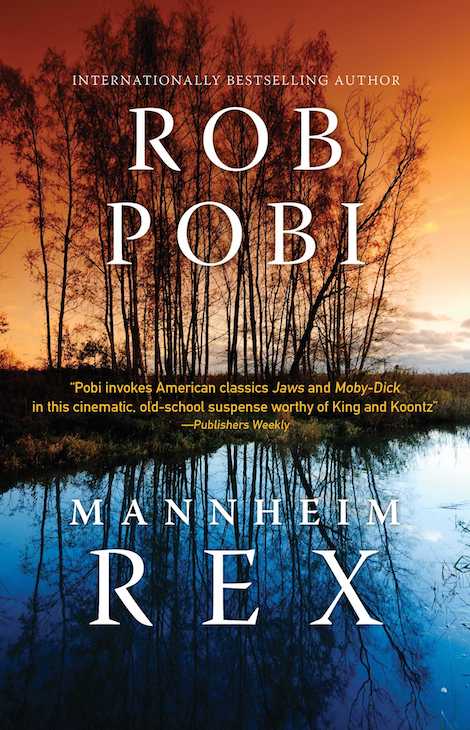 "Look out Stephen King: 'Rex' is coming." — Graffiti Magazine
"This creature feature does not disappoint." — Booklist
"Pobi's full-bodied characters, keen sense of place, and ear for realistic dialogue make for an engaging read." — Publishers Weekly
"...anchored by Pobi's assured, confident, surprisingly funny, shockingly creepy writing and prose...a story that I couldn't put down..." — The Library Police
"Pobi is a magician with words." — Suspense Magazine
After the sudden death of his wife, best-selling horror writer Gavin Corlie has a hard time keeping a grip on the world around him. Deciding that he needs a change, he purchases an old house nestled into a hillside overlooking a quiet lake in upstate New York. It is here, where things seem idyllic, that he hopes to finally begin the elusive process of healing.
But Gavin soon learns that he has moved into an ecosystem that is vastly different than the one he left when a handicapped boy named Finn Horn nearly drowns on the lake. Out here people keep disappearing – and Finn insists that there is a monster out there. Is Sheriff Xavier Pope – a vodka and Benzedrine fueled menace who hunts children to placate the cockroach circus that lives inside his mind – responsible?
In Mannheim Rex, the characters are pitted against something much older, and much more menacing, than a bad cop with insects in his head; a nightmare that has appeared in legend since the 13th century, and evolved with a single purpose – to feed.